Acting Up prepares 'comic' production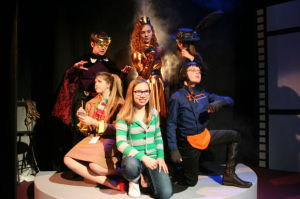 The kids of Community Players are gearing up for another world premiere production with the upcoming show "The Incredible Illustrated Iris." This hilarious tale opens Friday, April 25, at 7:30 p.m. with additional performances April 26 at 7:30 p.m. and April 27 at 2 p.m.
The box office, located at 412 Ella St., Beatrice, is open weekdays from noon to 5:30 p.m. and two hours prior to performances. Reservations can also be made by calling
402-228-1801 or online at www.beatricecommunityplayers.com.
"The Incredible Illustrated Iris," a comic book comedy written and directed by Associate Artistic Director Tyler Rinne, tells the story of Iris Meriwether who loves her collection of vintage comic books and the adventures of the Amazing Alexander that she reads about in them. One night, Iris finds herself magically transported into the comic book world she loves, and the Amazing Alexander finds himself in the real world! Totally out of their elements, Iris and Alexander must find their own way back home before the evil Robot Queen destroys the comic book world and all of the colorful characters within it.
"Like the best Disney/Pixar movies, we strive to create entertainment that is both fun and lighthearted enough for kids, but has enough jokes and gravity to entertain adults," said Rinne. "The kids have done a fantastic job of bringing these characters and themes to life."
Playing the titular character of Iris is Madison Witulski, while Adam Tjeersdma takes on the role of her favorite comic book character, The Amazing Alexander. John Spilker and Allison Snurr play Alexander's bumbling sidekick Adequate Arnie and girl reporter Layla Larson, respectively. Sarah Price appears as Iris's precocious little sister Cici.
Rounding out the cast as other colorful characters are Holly Beenblossom, Molly Hurley, Abigail Jones, Whitley Kleveland, MaKena Mayfield, Zak Moore, Payton Neunaber, Matt Price, Lauryn Rieken, Tina Rowe, Jonas Weber, Abigail Witulski, and Tanner York.
Acting Up began in 2011 as part of the theater's focus on educational outreach. The program is targeted at students in grades 5 through 8, to teach young people about all aspects of putting together a show. The experience culminates in performing a family-friendly production each semester.
Ticket prices for "The Incredible Illustrated Iris" are $10 for adults and $5 for students.
Pinnacle Bank sponsors the production.
Community Players, an award-winning theater located in downtown Beatrice produces a variety of entertainment and educational programs featuring the talents of performers from throughout Southeast Nebraska. For more information call
402-228-1801 or visit www.beatricecommunityplayers.com.