The Black Crow included on Nebraska Passport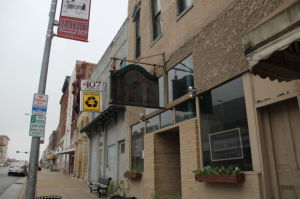 April 11, 2014 10:28 am
•
The Black Crow was recently selected as one of eight restaurants in the 2014 Nebraska Passport. The Nebraska Tourism Commission publishes the yearly passport, which features 80 restaurants, hotels, parks and other attractions across the state.
Angela White, public information officer for the Nebraska Tourism Commission, said the passport provides Nebraskans with the opportunity to learn more about their state and what it has to offer.
"It's a great opportunity for Nebraskans to explore the state," she said. "If you're from a certain region and you've been to a lot of the things in your area, it just gives you an excuse to get out and travel to a different part of the state you don't get to all the time. We have a lot of families who participate in the program. Maybe several sisters or people in a family will venture out and see some different sites around the state."
White said the passport serves as a sort of game. Each traveler will receive a stamp when they visit any of the locations in the passport booklet. The more sites a traveler visits, the more prizes they receive.
"The travelers have from May 1 to Sept 30 to visit the attractions," White explained. "At the end of that period, they submit their passport to redeem their stamp for prizes. For each completed tour that someone finishes, let's say they finish the entire culinary Forks in the Road tour, then they would get a T-shirt for that particular tour. They can earn another T-shirt for every additional tour they do. They could get up to ten T-shirts.
"The travelers also receive $20 in $1 scratch coupons if they complete 20 stamps. They can get a digital picture frame for 40 stamps. If they complete all 80 stops this year, we have a prize for that. That's a Pebble Smart Watch. Anyone who completes all 80 stamps will also be entered into that grand prize drawing for a plasma TV. Anyone who even has one stamp gets entered into a drawing for 300 $1 scratch tickets."
White said The Black Crow is the only restaurant in the southeast Nebraska region to be featured in this year's passport. The Black Crow joins Bella Italia Restaurant, of Cozad; High Plains Homestead, Home of the Drifter Cookshack & Bunkhouse, of Crawford; Nebraska Barn and Grill, of Gothenburg; River House Soda Fountain & Café, of Plattsmouth; Sandstone Grill, of Burwell; The Chocolate Bar, of Grand Island; and Westside Restaurant, of O'Neill.
White said The Black Crow was selected based on its popularity and relationship with the Nebraska Tourism Commission.
"The Black Crow is very popular," she said. "It's always been a popular restaurant in the southeast Nebraska area, so that helps. They have a very good reputation. They've also done a great job in the past few years in working with the Tourism Commission on various projects. That obviously works well in their favor."
Michael Sothan, executive director of Main Street Beatrice, said selection to the Nebraska Passport is one of the best forms of advertising for businesses that want to attract new visitors.
"Tourists pick up this thing, and they don't necessarily know where to go," he said. "They might ask some people in town, but if they open this up and say 'you know, I was thinking about going to Homestead,' there's something else to reinforce that Beatrice is a community to go to. When they're thinking about lunch or dinner, they're probably going to go to the place that was recommended to them in this professional booklet."
Sothan is hopeful The Black Crow's selection in the 2014 Nebraska Passport will boost tourism in Beatrice and the surrounding area.
"Working within the tourism industry in my past, every single tourism place, whether it be a restaurant or an actual attraction, has definitely benefited from it," he said. "I don't know a single one that it has hurt. Just for example, Wessels Living History Farm in York saw their attendance almost double in one of the years they were on the passport program. When I was at the (Great Platte River Road) Archway, we had a year that we were up by 20 percent the year we were on the passport program."
For more information, or to preorder a passport, visit www.nebraskapassport.com.